Oleh Ismail Fahmi
Social Network Analysis: @JoeBiden vs @realDonaldTrump   During the election day (3-4 Nov), Drone Emprit has collected conversation on Twitter about these two candidates.  How is the social network analysis graph looked like?
ETTING  
Two monitoring projects are made, with these keyword settings:  
- Trump: Trump, @realDonaldTrump  
- Biden: Biden, @JoeBiden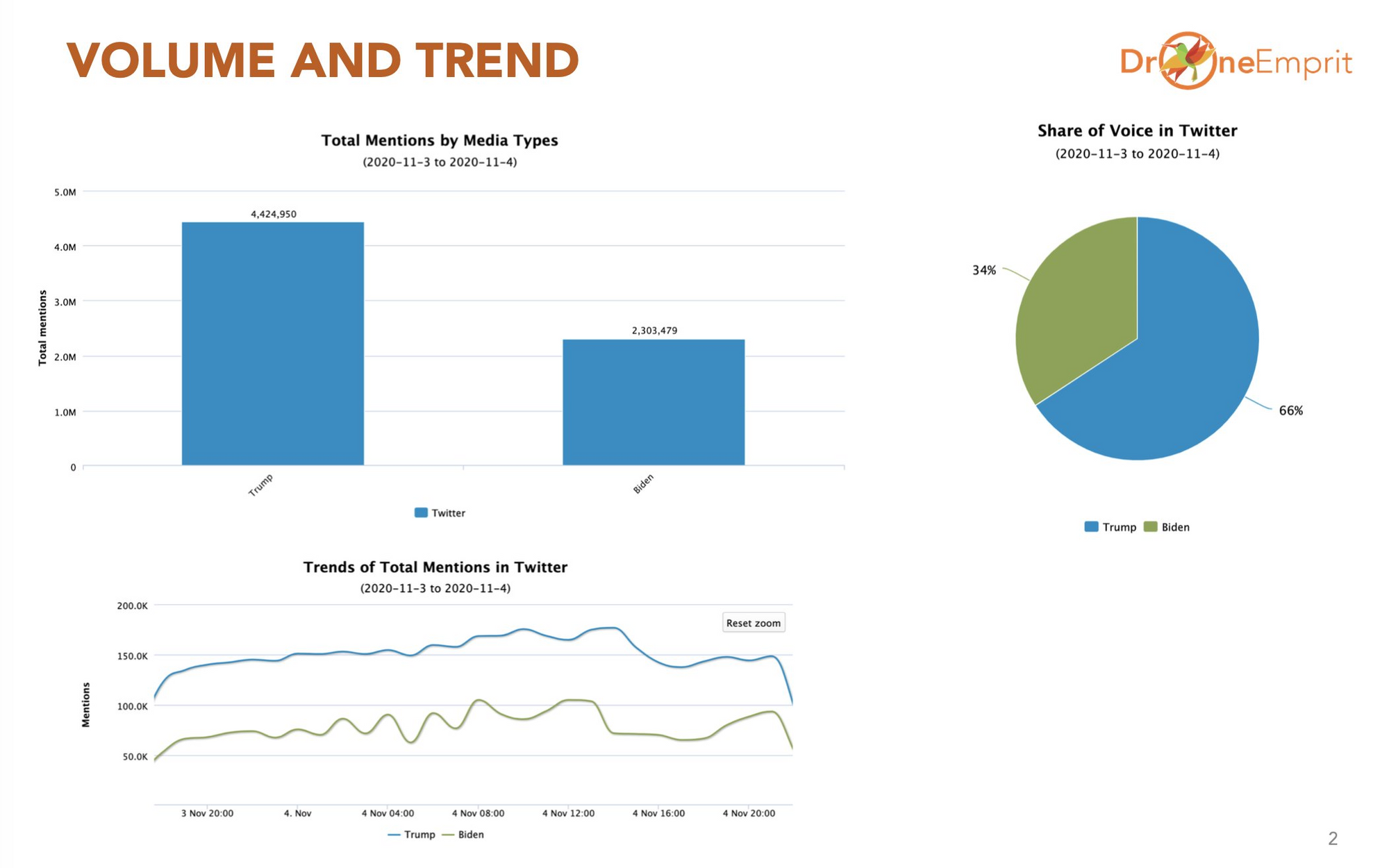 VOLUME AND TREND  From 3-4th of Nov, the volume of the conversation about Trump is always higher than about Biden. Trump 4,4M (66%) vs Biden 2,3M (34%).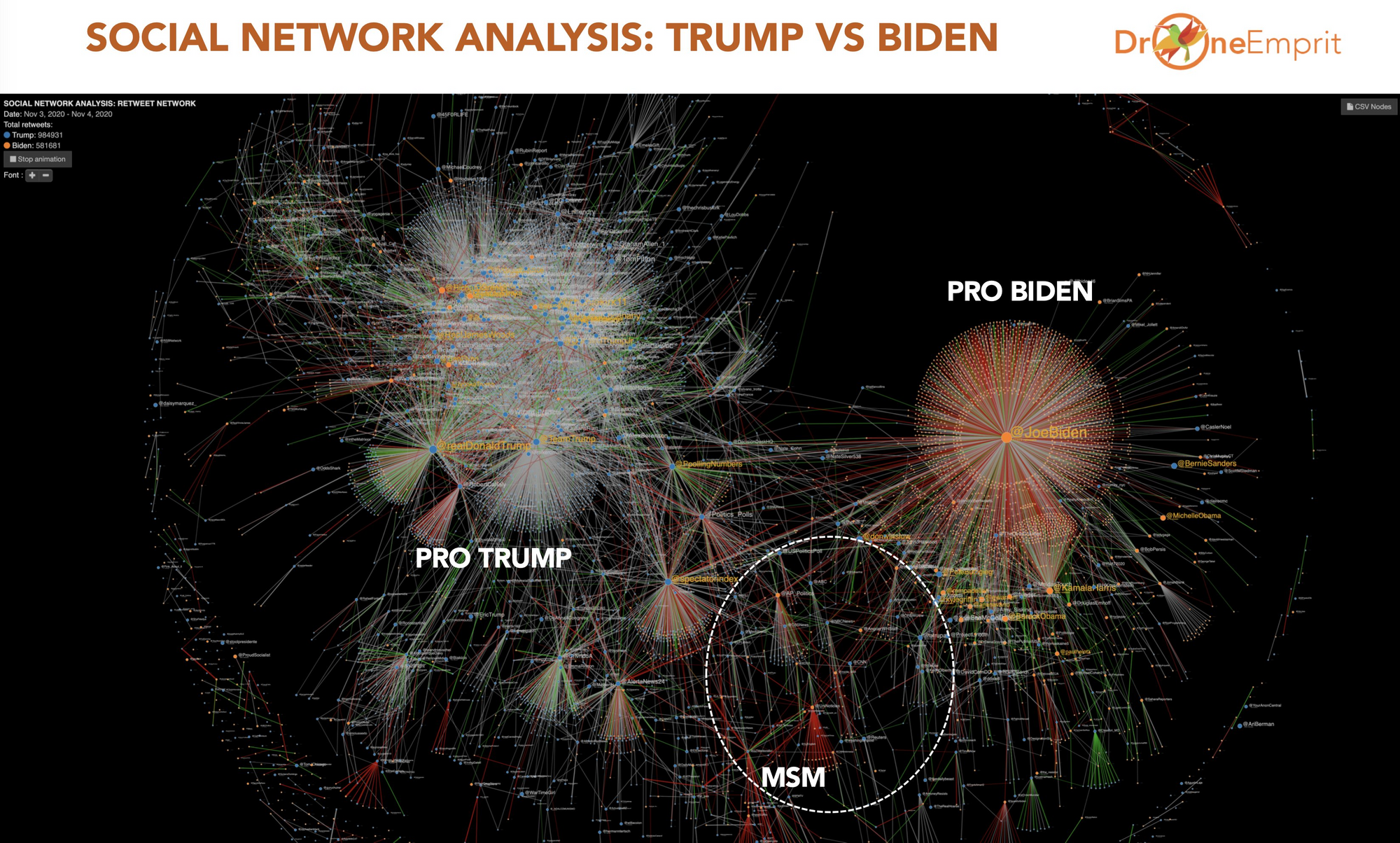 SOCIAL NETWORK ANALYSIS GRAPH:  TRUMP VS BIDEN  
This SNA grph uses "retweet" as the link. Two big  component subgraphs show Pro Trump and Pro Biden networks. Pro Trump subgraph is bigger than Biden's.   Between them is a pool of MSM (mainstream media) accounts, closer to Biden's.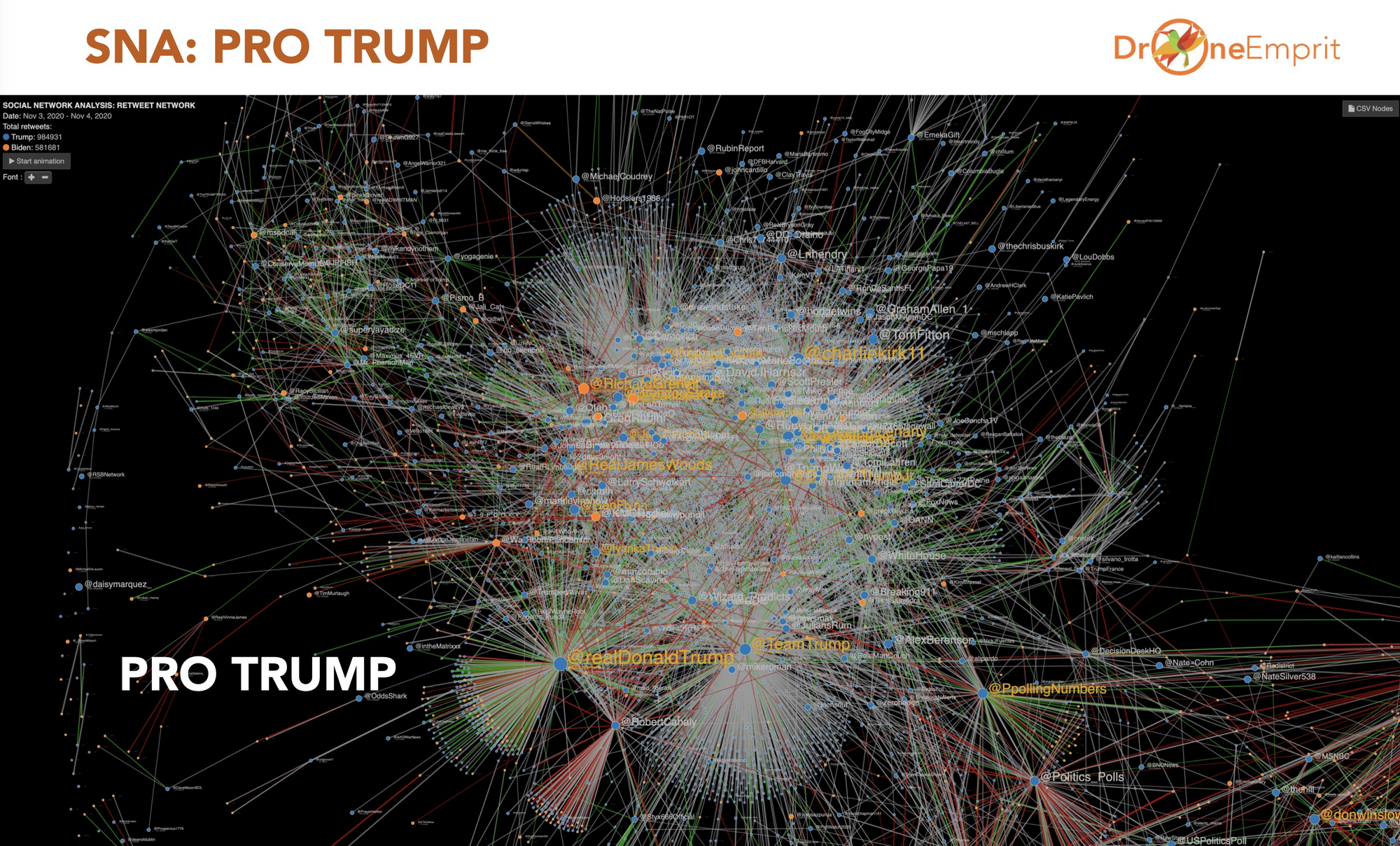 SNA: PRO TRUMP NETWORK  This subgraph is actually consists of other smaller subgraphs, connected to the main network. Main top influencers: @realDonaldTrump,
@TeamTrump,
@charliekirk11,
@DonaldjTrumpJr,
@RealJamesWoods,
@IvankaTrump,
@GregRubini, etc.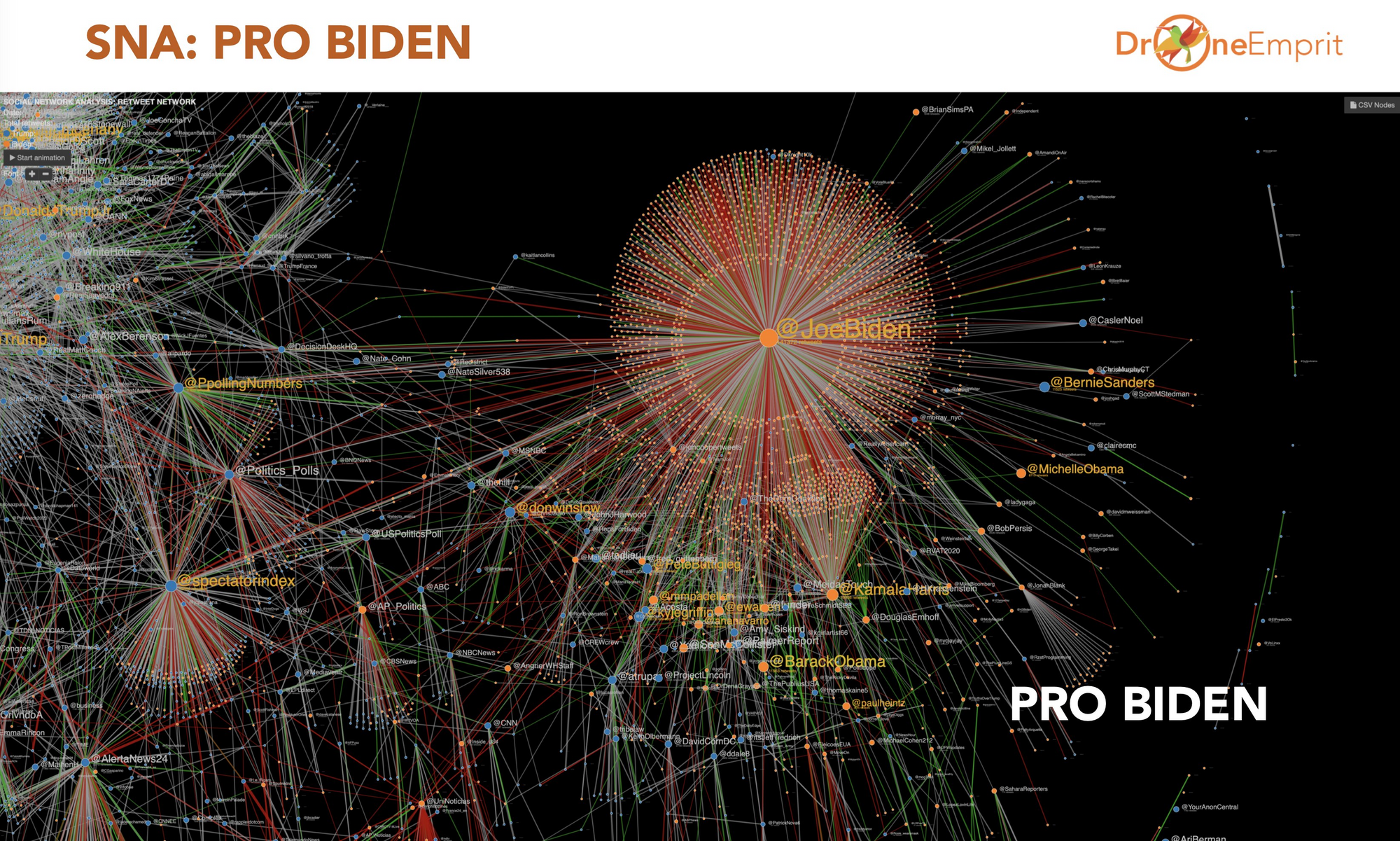 SNA: PRO BIDEN NETWORK  
Biden's subgraph is less crowded, mainly constructed by @JoeBiden's Ego Network, no "war room" related accounts as shown in @realDonaldTrump's, and supported by top influencers
@BarackObama,
@MichelleObama,
@BernieSanders,
@KamalaHarris,
@PeteButtigieg.
From the two subgraphs above, we can see that Trump uses more and powerful social media armies compared to Biden. One of the impact is the popularity of @realDonaldTrump in social media is almost twice as @JoeBiden.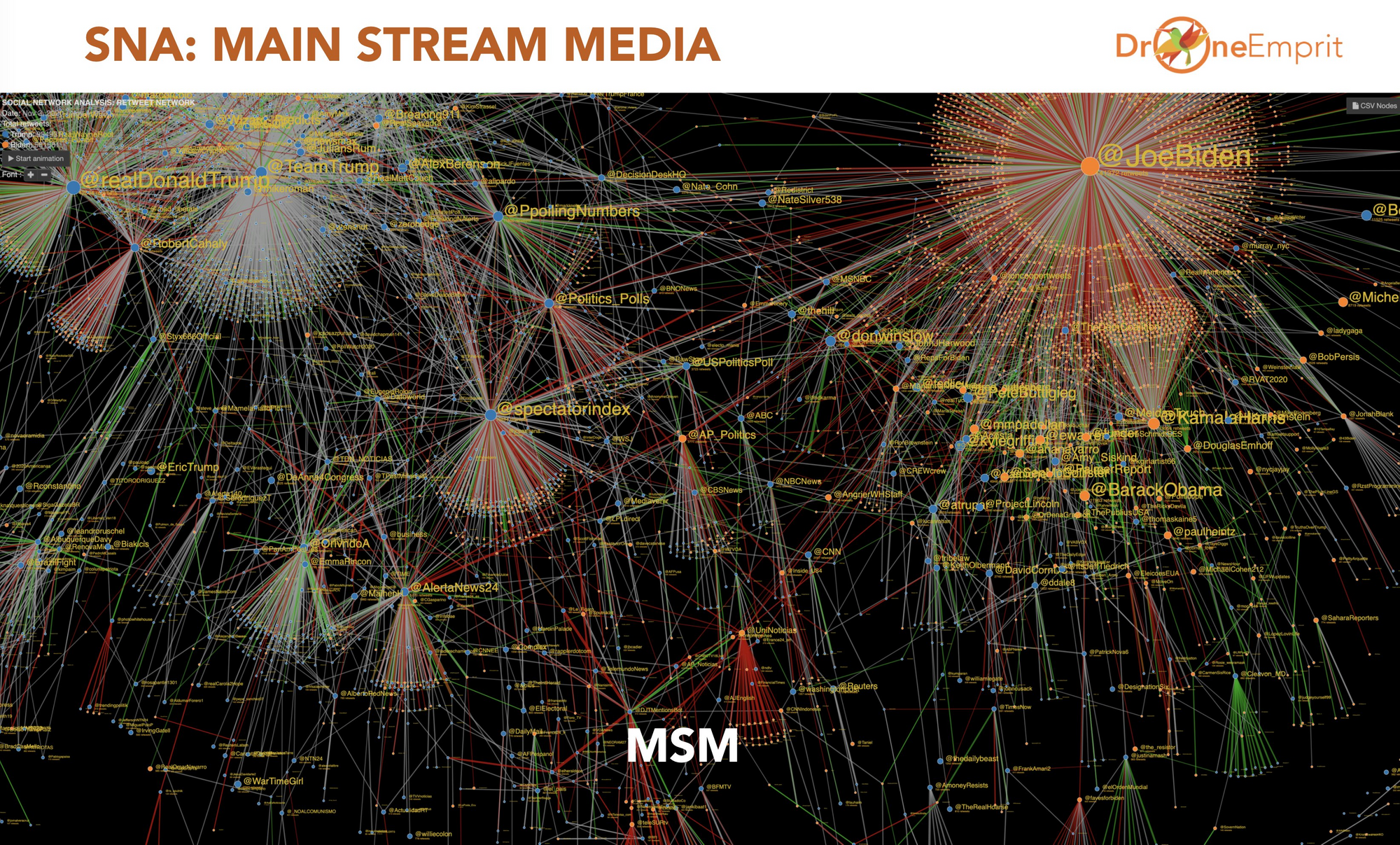 SNA: MAIN STREAM MEDIA  
The graph also shows the pool of MSM, between the two subgraphs, such as @ABC, @CNN, @AP_Politics, @CBSNews, @NBCNews, @Reuters, @washingtonpost, @AJEnglish, @thehill, @MSNBC, @WSJ, etc.  Although in between, however they are closer to Biden.
And this mantra is spoken in an angelic language. pic.twitter.com/hOK9E7bo5k

— Ismail Fahmi (@ismailfahmi) November 5, 2020
Although Trump's social media army is bigger and stronger, it turns out that the election results is different.   Now, it is time for us to pray for Trump. May he becomes "lurah" and can "lungo kaji."
Link: https://twitter.com/ismailfahmi/status/1324247732911890433