Tahukah anda, di Laut China Selatan sedang ada konflik?   Negara mana saja yang terlibat, paling ngegas, dan bagaimana posisi Indonesia?  Drone Emprit menganalisis cepat dari data yang telah dikumpulkan dari tanggal 7 sd 25 Juni 2020.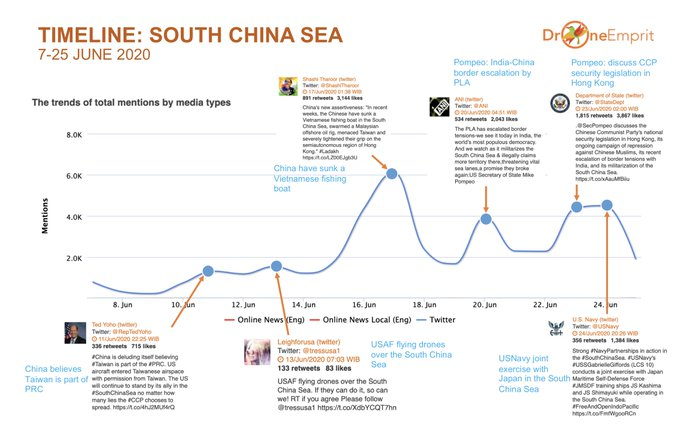 TIMELINE  
Dalam periode ini:
- China anggap Taiwan bagian dr PRC
- USAF menerbangkan drone di LCS
- China menenggelamkan kapal ikan Vietnam
- Pompeo: PLA bikin ulah di perbatasan India-China
- Pompeo: membahas UU keamanan di Hong Kong
- US Navy latihan gabungan dg Jepang di LCS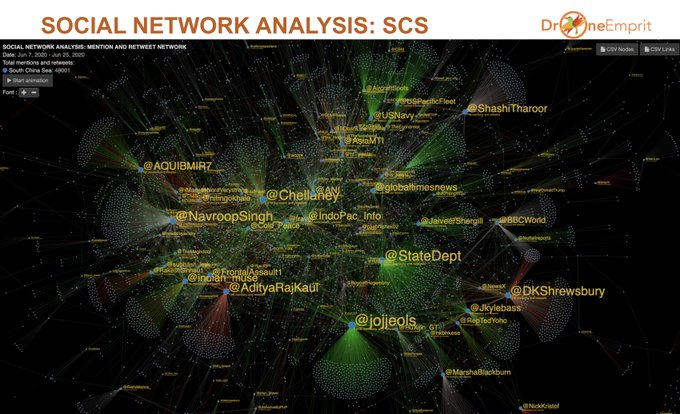 SNA 'South China Sea'  
Dominated by big accounts from  
India:
- @Chellaney  
- @NavroopSingh_  
- @AdityaRajKaul  

USA:
- @StateDept  
- @USNavy  
- @USPacificFleet  

Information arbitrage: @IndoPac_Info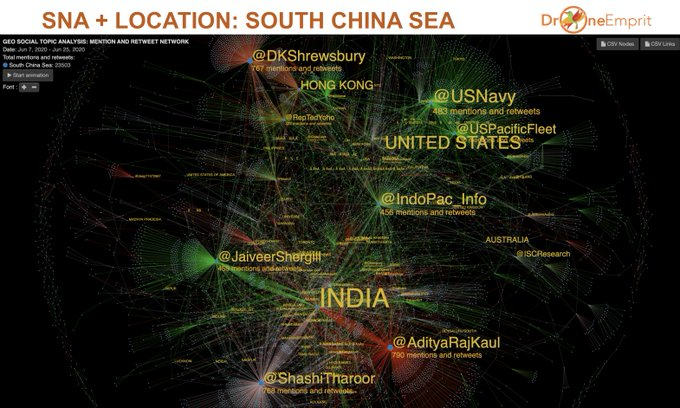 SNA with Location 'South China Sea'  
India, US, Hong Kong, Australia, and Taiwan are among the top countries in this conversation.  
@JaiveerShergill, @AdityaRajKaul, @ShashiTharoor, @DKShrewsbury, @USNavy, @USPacificFleet, @RepTedYoho, @IndoPac_Info and @ISCResearch.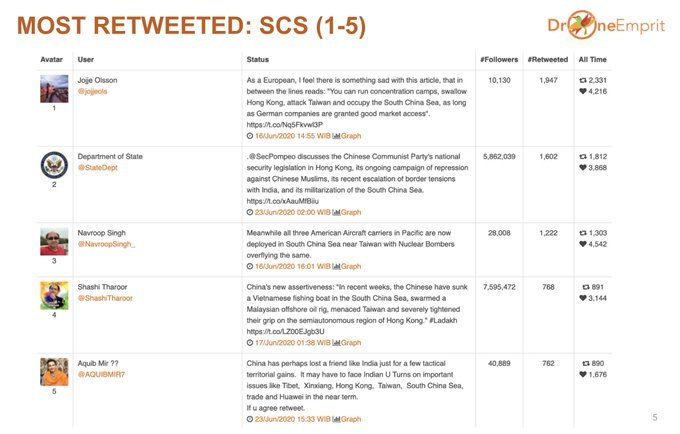 TOP 1-5 NARRATIONS  
- @jojjeols: Sad as a European, ok with China, as long as companies have good market
- @StateDept: @SecPompeo on CCP security legislation in HK
- @NavroopSingh_: US aircraft from Pacific to SCS
- @ShashiTharoor: China sunk a Vietnamese fisihing boat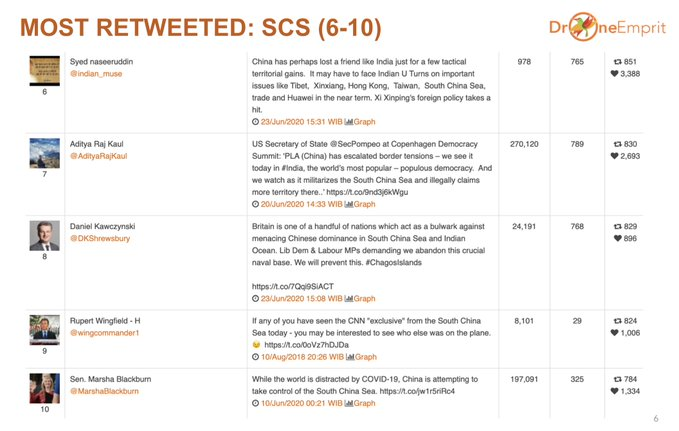 TOP 6-10 NARRATIONS on South China Sea  
By @indian_muse, @AdityaRajKaul, @DKShrewsbury, @wingcommander1, and @MarshaBlackburn.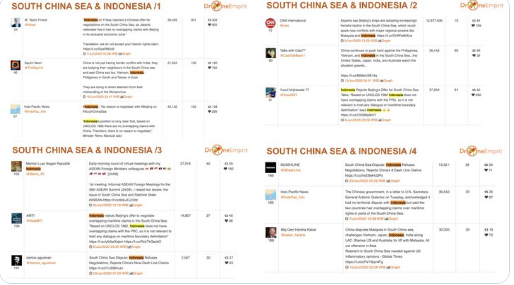 INDONESIA and SOUTH CHINA SEA  
- 'No reason to negotiate' with Beijing
- Indonesia's position is very clear: UNCLOS 1982, no overlapping claims with China
- Indonesia Refuses Negotiations
- Reject China's Nine-Dash Line Claims

.@Menlu_RI raised two issues: - South China Sea  - Rakhine State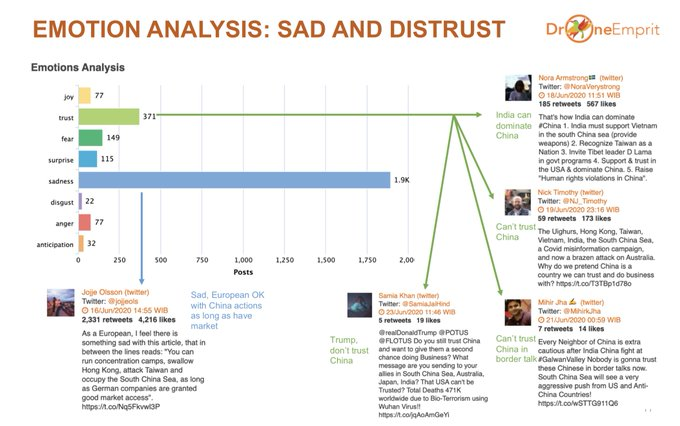 EMOTION ANALYSIS: SAD AND DISTRUST  Sad feeling among European, bc they are OK with China as long as they have huge market.  Distrust: cannot trust China in many issues.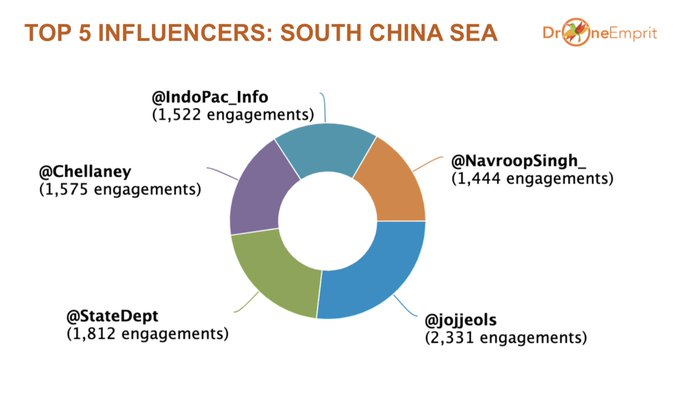 TOP 5 INFLUENCERS ON SOUTH CHINA SEA  
1. @jojjeols 1,948
2. @StateDept 1,608
3. @Chellaney 1,419
4. @NavroopSingh_ 1,359
5. @DKShrewsbury 1,117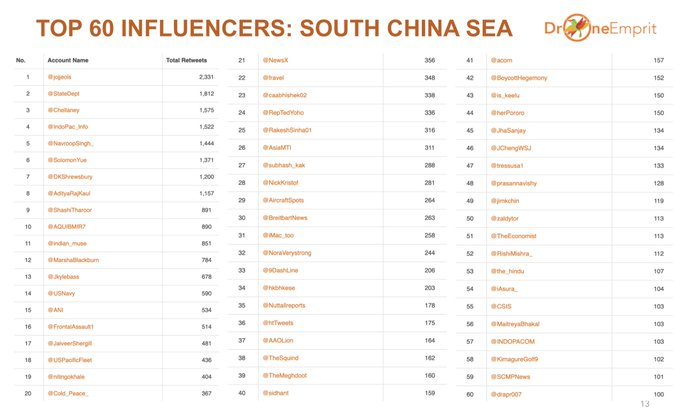 TOP 60 INFLUENCERS: SOUTH CHINA SEA  
6. @AdityaRajKaul 1,106
7.  @IndoPac_Info 778
8. @ShashiTharoor 768
9. @indian_muse 765
10. @AQUIBMIR7 762
11. @globaltimesnews 647
12. @Jkylebass 610
13. @ANI 537
14. @FrontalAssault1 520
15. @USNavy 509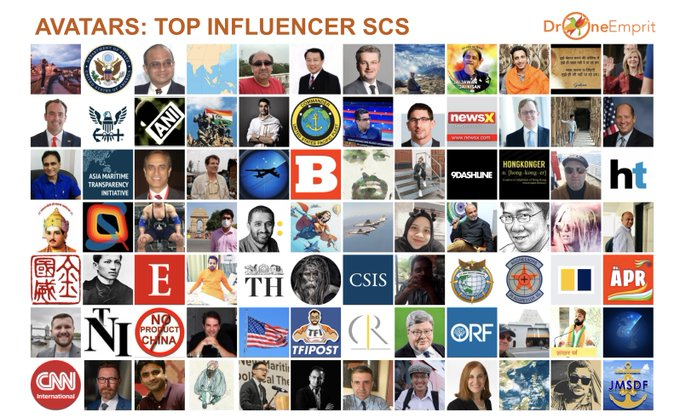 YOUR AVATARS, TOP INFLUENCERS ON SOUTH CHINA SEA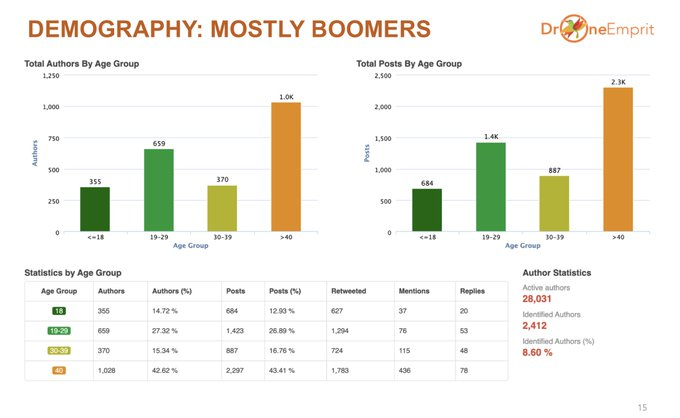 AUTHOR BY AGES  This issue is not for young generation. Mostly for Babyboomers.   However, a little bit interest shown by 19-29 YO users (gen Z and Y).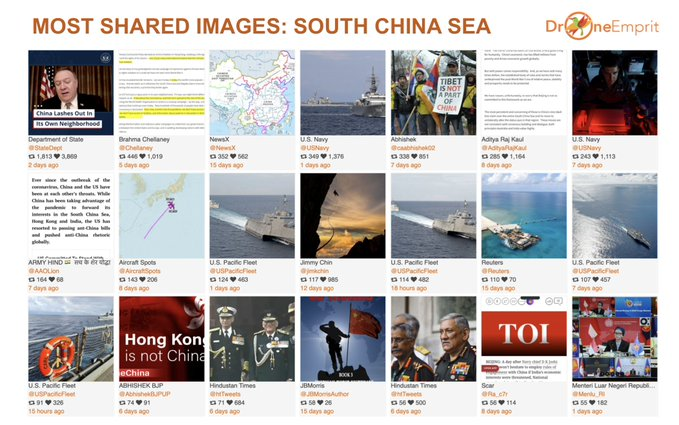 MOST SHARED IMAGES ON SOUTH CHINA SEA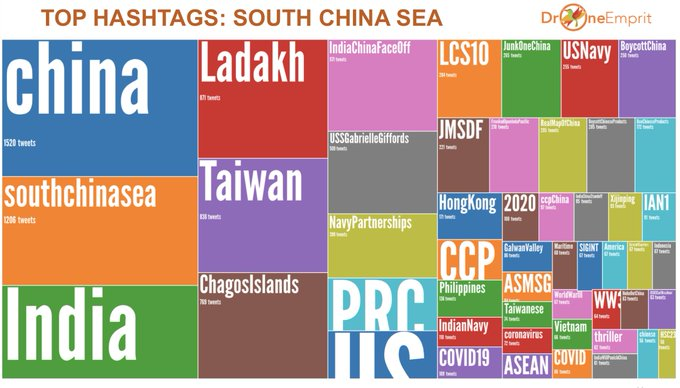 1 #china
2 #southchinasea
3 #India
4 #Ladakh
5 #Taiwan
6 #ChagosIslands
7 #IndiaChinaFaceOff
13 #JunkOneChina
14 #USNavy
15 #BoycottChina
16 #JMSDF
18 #RealMapOfChina
19 #BoycottChineseProducts
20 #BanChineseProducts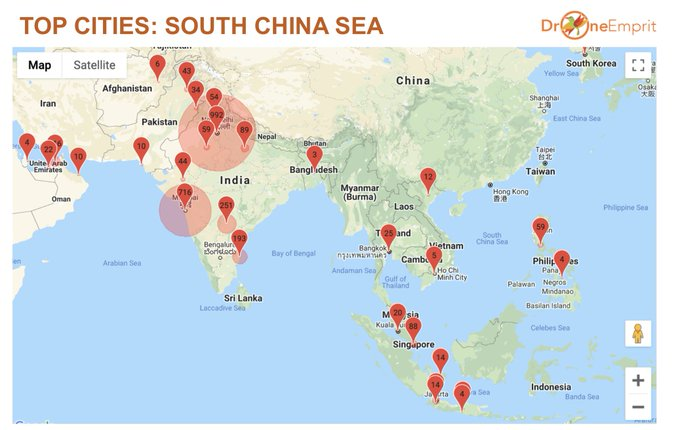 TOP CITIES: SOUTH CHINA SEA  
0;New Delhi;995
1;Mumbai;722
2;Hyderabad;251
3;London;206
4;Chennai;193
5;New York;157
6;Dubai;116
7;Melbourne;94
8;Singapore;91
9;Sydney;84
10;Lucknow;82
11;Jakarta;80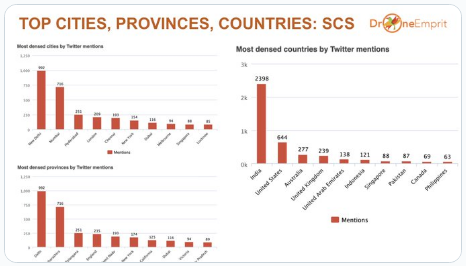 TOP CITIES, PROVINCES, COUNTRIES:
SCS  India, USA, Australia, and UK are among the top countries in the conversation about South China Sea.
CLOSING
Posisi Indonesia sangat jelas soal konflik atau ketegangan di LCS: ndak mau meladeni klaim China.  Namun, pergerakan kekuatan militer di LCS oleh China sangat kentara. Penyeimbangnya siapa? US dibantu Jepang.  "si vis pacem, para bellum"